ABOUT US
Keighley Community Nursery is a not for profit organisation run by a voluntary management committee.
We are also a registered charity and were originally established in 1997 situated on Marlborough Street, to provide a community nursery that was accessible to all.
We currently offer a 70 place nursery which was opened in our existing location in 2004. We provide 12 places for children under 2 years old and over 58 places for over two's.
Please CLICK HERE to view our accreditations!
On this website you will find all the information you may need about our nursery, but should you want to discuss anything or require any more information, please feel free to contact:
Joanna Smith - Nursery Manager or
Naomi Thornton - Deputy Manager on
01535 600723 or 01535 665648
Or to see what our current parents think, please click here!
BIG NEWS!
Beep, Beep!!
April saw us take delivery our our brand new Mini-bus that all the children will be benefiting from!! It will be used daily to collect from local schools and nurseries and also in the holidays for local trips and days out!!
We are all very excited so if you see us driving around Keighley and the surrounding areas, please give us a wave!!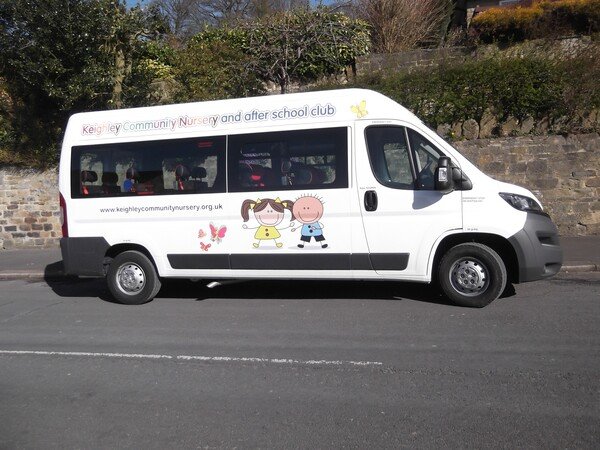 Better together!
If your child is currently accessing their funded two year sessions at our nursery and you refer a friend with another eligible two year old - you will both get a £5.00 thank you voucher that can be used in Mothercare or the Early Learning Centre!
Vouchers are subject to availability and minimum attendance requirements so sing KCN's praises to your friends today!!!!
Lets get active!
Remember KCN when you are doing your big shop please as it is ACTIVE KIDS time again at Sainsbury's and we are collecting vouchers right up until May 2016.
Our voucher box is displayed in the nursery reception area so you can drop in your vouchers when you drop off your children....easy right?!?!
Share our 15 minutes of fame with us!
As a community setting we are often in our local paper - albeit mainly as we appeal for help with vandalism or damage caused to our building out of hours - but this month we are in a national publication and we wanted to share our joy with you!
Please follow the link below to see pictures of some of our preschool children using the maths resources recently purchased out of our EYPP funding! There is also some information from the Nursery Manager (me!) so have a read and join us in our bragging rights!
http://www.nurseryworld.co.uk/nursery-world/feature/1156245/early-years-pupil-premium-part-6-adding-it-all-up